Specific software developed by the LNHB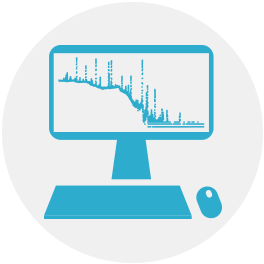 ETNA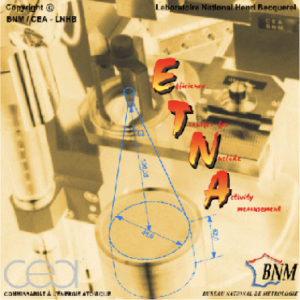 ETNA (Efficiency Transfer for Nuclide Activity measurements) has two gamma-ray spectrometry utilities that can be used to calculate:
– the efficiency transfer factor in the case of a change in geometric conditions between efficiency calibration and sample measurement,
– corrective factors for the effects of true coincidences, related to the decay scheme of radionuclides with gamma cascade emissions.
If you have any questions about ETNA, please contact us using the form below.
COLEGRAM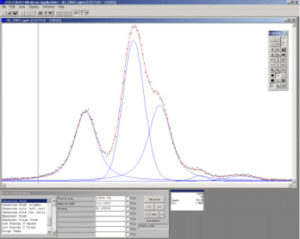 The detailed processing of gamma and X-ray spectra requires determining the areas of the total absorption peaks. This determination is easy for isolated peaks on a constant background, but this is not the case in spectrum regions where peaks are superimposed and/or on a variable background, and specific tools need to be implemented. The COLEGRAM software makes it possible to adjust different functions at the experimental points of a spectrum. The visualization of the calculated and experimental points as well as the residuals allows to follow the evolution of the adjustment and the quality of the results.
If you have any questions about COLEGRAM, please contact us via the form below.
BetaShape – Beta spectra computing – Version: 1.0 (24/06/2016)
The BetaShape program has been developed for improving the nuclear data related to beta emission properties.
The theoretical model was implemented with analytical calculations, except for the relativistic electron wave functions which are numerical solutions of the Dirac radial equations.
Mean energies, log ft values as well as beta and neutrino spectra for single and multiple transitions are provided.
A database of experimental shape factors is also included and the uncertainties from the input parameters are propagated.
REFERENCES:
– X. Mougeot, Physical Review C 91, 055504; Erratum Phys. Rev. C 92, 059902 (2015)
DOI: https://doi.org/10.1103/PhysRevC.92.059902
– X. Mougeot, Physical Review C 91, 055504; Erratum Phys. Rev. C 92, 059902 (2015) (link to publication)
Download BetaShape:
BetaShape – Windows 7 package (7z file, 2.32 Mo)
BetaShape – Scientific Linux package (tar.bz2 file, 3.10 Mo)
BetaShape – OS X (zip file, 2.50 Mo)
Informations
For more information about our services, please contact us!